The Pioneering Women who influence the Travel Industry: around the world and Indonesia
What happens when a woman refuses to conform to male expectations of what she can be and what she can do? For a woman to show herself capable of thinking and acting in defiance of allotted roles is to threaten the status quo. Such a woman is dangerous—because her refusal to conform is a very visible demonstration that there is nothing that should be a male-only preserve.
—Glynis Ridley
All around the world, the hands of women have made notable changes in the tourism industry. In fact, women account for the majority of the global tourism workforce. Most of them tend to work in low-managerial positions, resulted in low-paying wages—but this episode does not stop them from composing their creation in the tourism industry. We believe that those women have been exploring challenges in the industry and conquer the impossibility of the status quo, because virtually nothing is impossible in this world.
It's always mesmerising to know women who defy their cultural boundaries and social norms—the convention this world has built, to empower all life to produce their own history. So let's take a look at female adventurers, pilots, teachers, from all over the world to celebrate their contribution that radiates passion and perseverance to empower others, including Indonesia.
Traveler
France: Jeanne Baret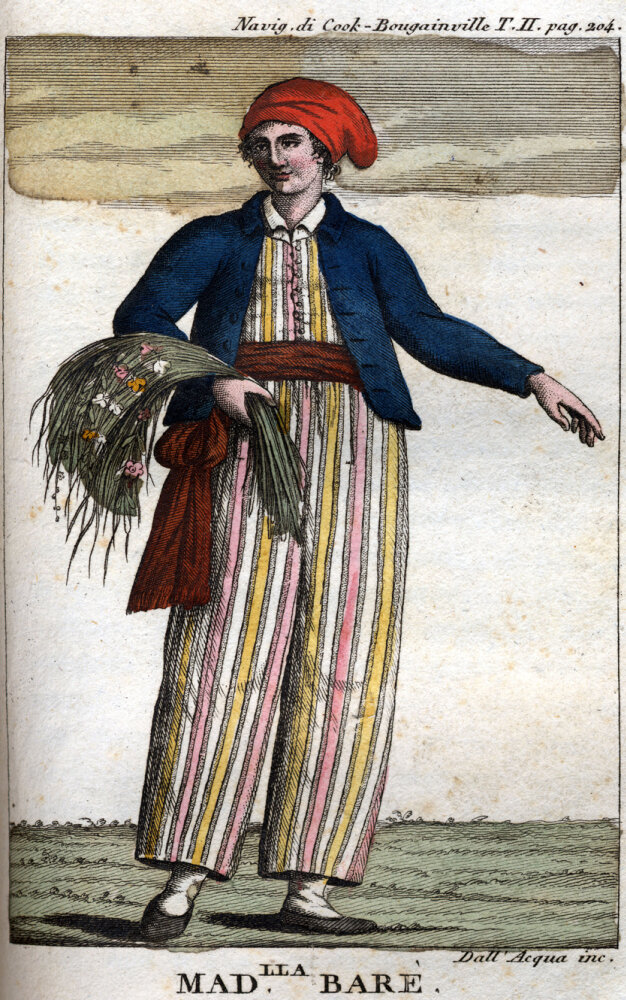 Jeanne Baret in loose-fitting clothes
(Photo courtesy of Leemage/Getty Images/Universal Images Gr)

Jeanne Baret, an 18th century woman who circumnavigated the globe and bravely tackled gendered and social limits placed upon women in the society. Jeanne Barret disguised herself as a teenage boy to be a principal assistant of Philibert Commerson, the expedition's official naturalist of the sailing ship L'Etoile—first French circumnavigation ship around the globe. As quoted in Ridley writing, at that time, French royal ordinances did not allow women on board naval ships, not even if they were the wives of officers, as was permitted in the British navy at the time. Baret is no one's wife but a model for others. As written by Bougainville's Journal, she is less a contagion than an aberration.
Indonesia: Trinity
The beginining of the Trinity The Naked Traveler
(Photo courtesy of Phinemo)
Trinity, Indonesian woman born in 1973, is no stranger to Indonesian travelers. Her travel story is more about 'naked' journey and adventurous self-discovery rather than selfies. Her feats, which have included publishing 13 travel books, traveling to 89 countries, receiving dozens of achievements, and getting her book adapted to a film called Trinity—the Naked Traveler. She began her journey in adolescence. As juvenile traveler, she craved traveling because of her mother.

Discovering her path beyond the garden gate, she kept her journey in a diary until her friends found out about its light, funny and interesting story. Later, she was asked by her friends to share the story publicly and started to blog in 2005, which made her an Indonesian travel blogger pioneer.
Pilot
Saudi Arabia: Yasmeen Al Maimani
Yasmeen in her first flight experience ever as female commercial aviator in Saudi Arabia
(Photo courtesy of Emirates Women)

Men is no longer dominate the sky, since Yasmeen Al Maimani became the first woman commercial pilot ever in Saudi Arabia. Yasmeen obtained her aviation license in Jordan after completing 300 hours of flying practice in the US. Though the road has been rocky for Yasmeen, following 6 years of knocking on the door of opportunities, Nesma Airways—Saudi Arabian's airlines finally granted her permit and made Yasmeen as the first female commercial aviator in the country.
Indonesia: Ida Fiqriah
Ida Fiqriah in front of Garuda Indonesia plane figure
(Photo courtesy of Emirates Women)
Continuing the trend of female aviators and milestones that have been breaking through into the world's aviation industry, Indonesia also got Ida Fiqriah as the first ever female captain of Garuda Indonesia. She got her position as a captain after clocked 10,585 flight hours since 1999, started off her career path as a co-pilot. Of course things were not smooth sailing for Ida because she had to go through lots of challenges to be a captain. Ida Fiqriah is also required to pass lengthy ground training and myriad flight simulation to obtain the qualification. According to an interview by Kumparan.com, she also had experienced many memorable flights and occurrences during her career. Following 71 years that Garuda Indonesia has been navigating the sky, this is a major breakthrough for women that emancipation is not only a history but a legacy for the foreseeable future.
Teachers

East Africa: Hellen Nkuraiya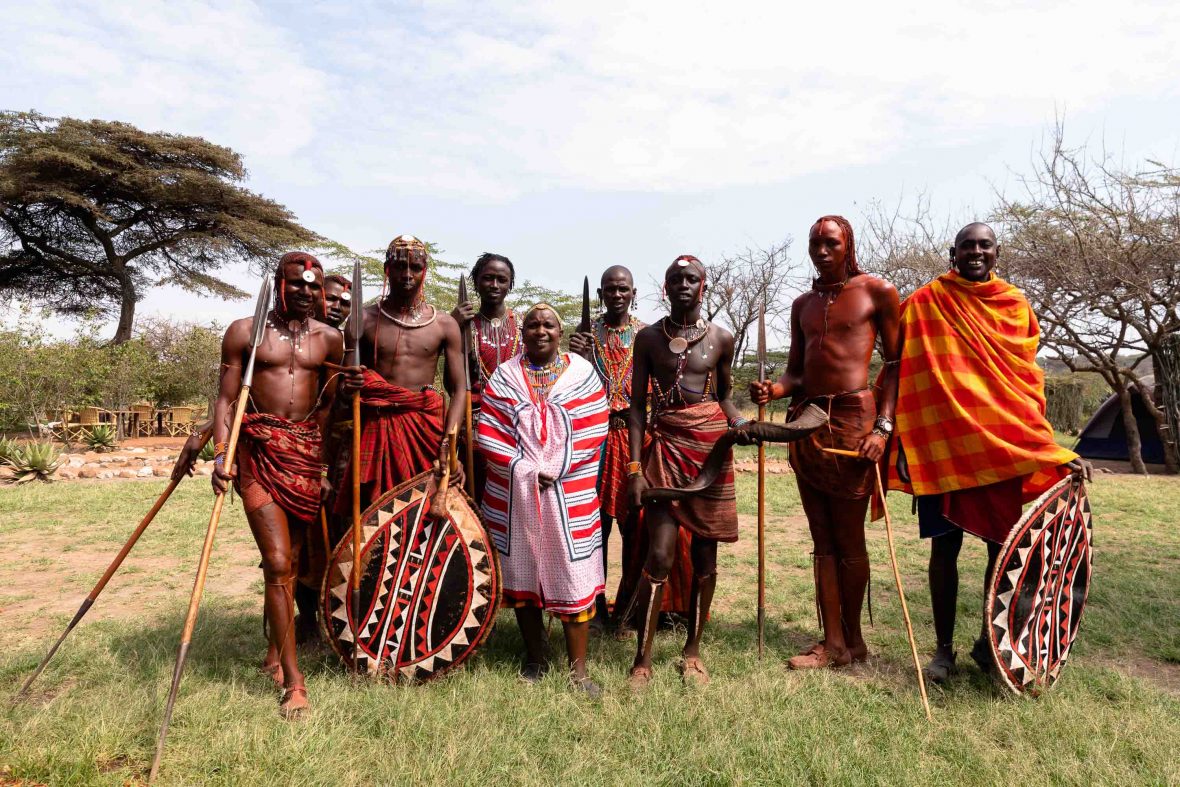 Hellen at the Maasai Tepesua village which she founded to help at-risk girls
(Photo courtesy of Adventure)


Hellen Nkuraiya, is a survivor of Female Genital Mutilation (FGM) who founded Tepesua—a village community who save the girls from FGM. As she was 11 years-old, she was traded for dowry of cows with a man who was in his late 70s. As told in adventure.com, she eventually ran away then saved and educated by a nun and promised to help the girl with the same fate.
Later, Hellen fought to save the Maasai girls as a teacher and made her own school in 2009 prior to FGM ban in 2011. She made her own school—the Enkiteng Lepa on the grounds that she was forced to move and beaten by the community (because she was known as a bad person who changes the culture). The school campaigned on the social culture limits of Maasai, the motto said—'Don't Exchange Girl For Cows, Give Them Education'. Quoted from the interview from adventure.com, Hellen said that she has given the community an 'everlasting cow' "They [the girls] can milk knowledge, not the real cow, which will only die when there is a breakout of disease or a drought".
Today, Tapesua community formed an eco-camp and a widow's village that sells beaded jewelry to visitors. Kazuri bead factory, which is also founded by Hellen, has employed 340 women. By selling jewelry to the visitors, this helps Enkiteng Lepa (Purple Cow) school to give broad education and options for 200 at-risk young girls. Today, the entire community is reaping the benefit for empowering locals.
Indonesia: Redempta Tete Bato
Redempta Bato
(Photo courtesy of Women in Tourism Indonesia)

While Indonesia has a series of female emancipation figures like R.A. Kartini and Dewi Sartika who fought for overall education, tourism industry have Indonesian Hellen Nkuraiya—Redempta Bato. Redempta Bato was born and raised in Sumba and makes the role model of female teachers in Sumba, even better Indonesia. She has been working with NGO for 20 years and has experienced child protection policy and education monitoring services. She is also particularly interested in education and graduated from her postgraduate study in sociology, so with the passion, expertise and vast connection that she got, Redempta is appointed as the Headmistress and the Chairwomen of the Board of Management of Sumba Hospitality Foundation (SHF).
SHF is established on the grounds that most Sumbanese youth are underprivileged, while Sumba has generous resources to be developed as a great tourism attraction. Due to its pristine beaches and vibrant culture, Sumba was poised for a surge in tourism development, therefore potentially creating an influx of indispensible job opportunities. However, it's challenging for Redempta to empower the locals because most Sumbanese parents think that the hospitality industry is not for women. The locals think that higher education is for men, so getting the education itself is not common, or let alone a hospitality education. As a result, most women in Sumba do not feel confident about themselves. Notwithstanding the social limit, Redempta thinks that this challenge is interesting because Sumba is the contributor of illegal workforces in NTT's hospitality industry; which invalidates the social boundary because hospitality education is in fact important for Sumbanese. Moreover, Redempta also thinks that by nurturing the youth with relevant education and allowing women to take part as the stakeholders will promote the well-being of the family and overall economic growth in Sumba.

At SHF, they community learn together to become standing, speaking women on behalf of people. "So we include gender aspects in our life skill training, including the involvement of indigenous communities," said Redempta. She also said this to the community to feel empowered, "Poverty is not our fate, thus education exists to escape from poverty, and we don't have to think that we are a woman to be a great individual".
(Laks)

Artikel ini dipublikasikan oleh womentourism.id | 16 Agustus 2020

---